Welcome back occasional sports fans to Olympic coverage!
Full disclosure I'm watching the team skate as I type this recap of the opening ceremony and keep getting distracted. So far we're in 1st place but there's still five events to go. Terry, Tara, and Johnny aren't in Beijing but they are still doing live commentary and dressing like cartoon characters. I'll let you now how it's going in italicized parentheticals as we go.
Now back to the opening ceremony. Let me set the scene, it's summer 2008 and the Olympics are set in Beijing. Swimmer Michael Phelps will try to make history by winning 8 golds. Jamaican sprinter Usain Bolt is not a household name famous for his finish line pose. As a variety of publications reported in the lead-up to that Olympics, the 2008 games will be the first time The West is introduced to the might of 21st century China. And what an introduction it was. Sincerely, if you haven't seen the 2008 Opening Ceremony it is worth watching. Or in my case rewatching multiple times.
(Czech skater Brezinova just did I very fun skate to a remix of "Sweet Dreams" by the Eurythmics in a cute grey sparkle dress and Georgian skater Gubanova had what Johnny is calling princess vibes so do with that what you will).
With that in mind, could this opening ceremony possibly compare to 2008? No. Some of that is Covid related, some due to the lower draw of winter sports, and some just because it is hard to bottle lightning twice.
The ceremony opened with performers waving very long green light up sticks and it gave the illusion of wind waving through grass that eventually became dandelion fronds. It was very pretty and sedate. Actually, pretty and sedate might have been the official theme.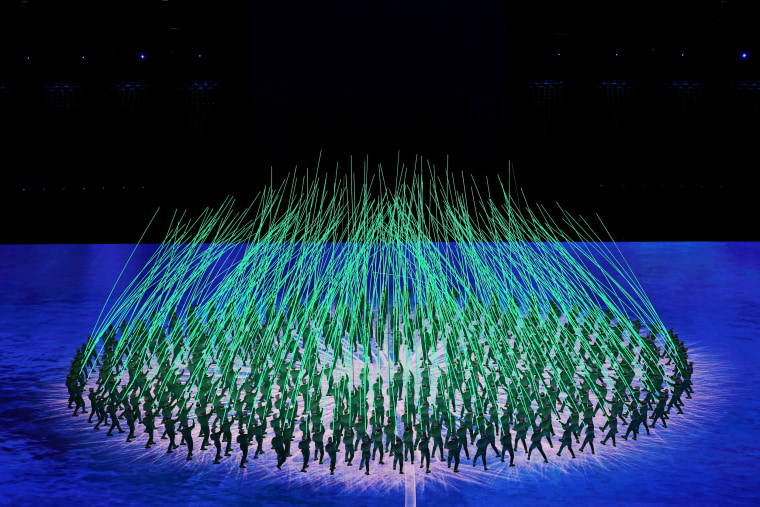 I don't really want to wade into the political waters of these games, but kudos to whomever decided on how to present the Chinese flag, because as a piece of visual political propaganda, it was exceptionally well done. People representing the 56 ethnic groups across China passed the flag between themselves dressed in modern and traditional clothing before it was raised by members of the military. I know this statement of unity is not reality, and claims of Uyghur genocide are the reason Biden and other country leaders are boycotting the games, but it is an impressive political message.
Moving on! A group of psychodelic hockey players shot a digital puck that triggered a display of the names and locations of the past 23 winter games on a screen meant to resemble a block of ice. The effects are done well, but it's still watching a screen with words, which is not very exciting.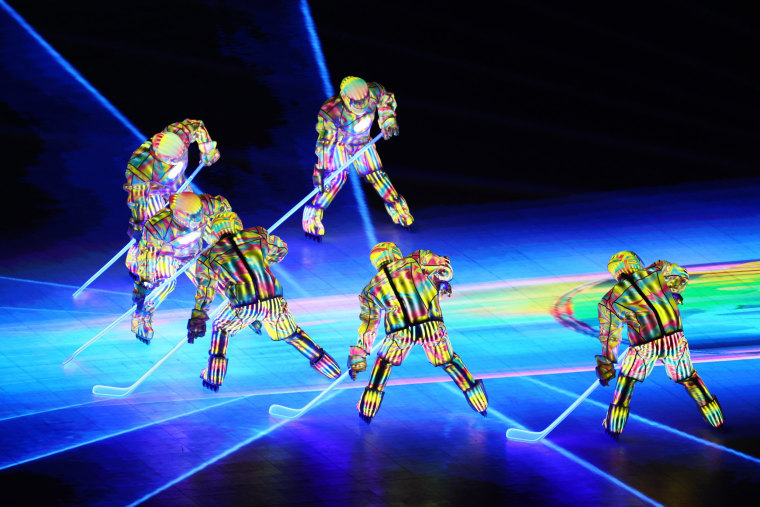 (Canada's Schizas just skated HER HEART OUT in an outfit that was possibly stolen from a winter pageant as it features two very large snowflakes. German Schott is skating to Carmen and I don't like the outfit but her skate is beautiful. She's 25 and our fearless commentators want us to know she was iron deficient and now takes iron pills. The German's are posing with a giant inflatable pretzel and as a fan of pretzels I heartily approve).
The block of ice 'breaks' to reveal the Olympic rings and it's already time for the athletes to enter the arena. Only 90 countries compete in the winter games compared to the 200 of the summer, with many countries only sending a handful of competitors. The Bird's Nest arena was built to hold the 2008 opening and closing ceremonies as well as all the track and field events. It's a large space that holds 80,000 people. For practical reasons I'm glad they used that same structure. However, in actuality, the space overwhelmed everything–cue 10 Things I Hate About You quote. The few performers they had due to Covid regulations, combined with comparatively few athletes and spectators made the space feel cavernous.
It was around 20 degrees in Beijing so in terms of outfits, it was variations on puffer coats, hats, and scarves. Some standouts:
Canada's outfits were designed by Lululemon and now that I know this it makes so much sense. It's basically 1000 layers. I wish the darker red didn't look like brown, although it does make the white letters stand out nicely on those crazy puffer scarves.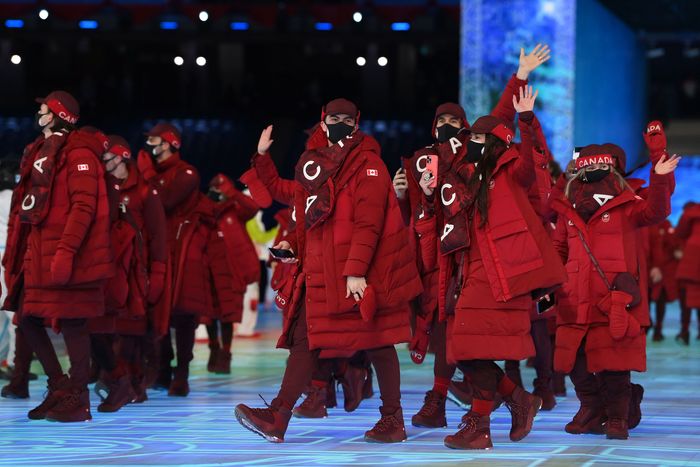 Quick when I say Great Britain what visuals come to mind? Is it a peacoat and sweater? Well that's exactly what the Brits wore and while they look great they also look like tourists who got lost and somehow ended up at the games.
Ok now when I say Italy what are the last garment that comes to mind? Is it a giant poncho with green, white, and red stripes? Yeah, Giorgio Armani apparently made these atrocities.
I would sincerely wear this wrap/coat situation from Colombia, I love everything about it.
Mexico got very creative with the skull imagery flower crowns, and they look great. Which I'm told is the most important aspect of sports.
Ralph Lauren never ceases to encourage thought provoking questions like, why are our athletes dressed as kneepad wearing preppy astronauts? No but seriously, why?
The athletes took their seats and in addition to roller bladers doing choreography to "Imagine" by John Lennon (imagine not using the song Imagine in an opening ceremony. It's easy if you try), there was also dancing with snowflakes and children with light-up doves. A very cute video package of tiny children falling on the ice and snow was my favorite part. Future athletes! They're just like me now!
(Japan's Higuchi was truly beautiful. She literally left Tara and Johnny speechless which is no small feat. American Karen Chen is in a black and blue sparkle number with gloves. She just fell! Oh Karen I'm sorry).
After what simultaneously felt like hours and only minutes, it was time to light the torch. A giant snowflake comprised of much smaller snowflakes bearing the names of the competing countries rose from the stadium floor, and after handing off the torch to multiple prominent Chinese past olympians, two athletes placed the torch in the center. A lot of coverage has been given to Dinigeer Yilamujiang, an Uyghur cross-country skier who was half of the duo to place the torch in the final position within the snowflake. More political messaging aside, this lighting was remarkably subdued compared to the 2008 games, where a gymnast suspended on a wire ran around the edge of the arena and then lit a fuse that sparked a massive blaze as the torch was officially lit. This year we have a small flame in a hanging snowflake. Cue the fireworks and that's a wrap on the opening ceremony.
I think the committee made the best out of an unfortunate situation. We are nearing six million global Covid deaths, and to produce the same level of spectacle would undoubtably be inappropriate. So yes, I was disappointed with this year's ceremony but commend all the work that went into producing something of this magnitude in our current global climate. Fingers crossed that by Paris 2024 we can get back to the brilliant productions.
This was originally going to only be an opening ceremony recap, but it morphed into including the Team Skate so here are updates from the rest of the evening:
Kamila Valiyeva is a 15 year old Russian and her outfit looks like Disney's Tangled on Ice. I'm not a fan of the overly long skirt. HOWEVER-Her leg extension and artistry is unbelievable.
Now it's women's slope style snowboarding which is basically if you did skateboarding but down a mountain. Nearly every woman has fallen at some point and I can't believe they all pop back up I'd need to be scrapped off the snow.
Women are done for the evening and Men's Free Skate is on. Canadian Sadovsky is falling apart. I feel so badly for him that was heartbreaking to watch.
China's Jin is also having a rough skate oof. It's never a good sign when Tara has to start making up nice stuff to say like 'he's listening to his music more'.
Russia's Kondratyuk outfit consists of blood red pants and a practically translucent shirt that appears to have a crown of thorns around his shoulders. It's very 'what if Jesus was an ice skater' vibes, a question that I'm sure will trouble humanity for years to come.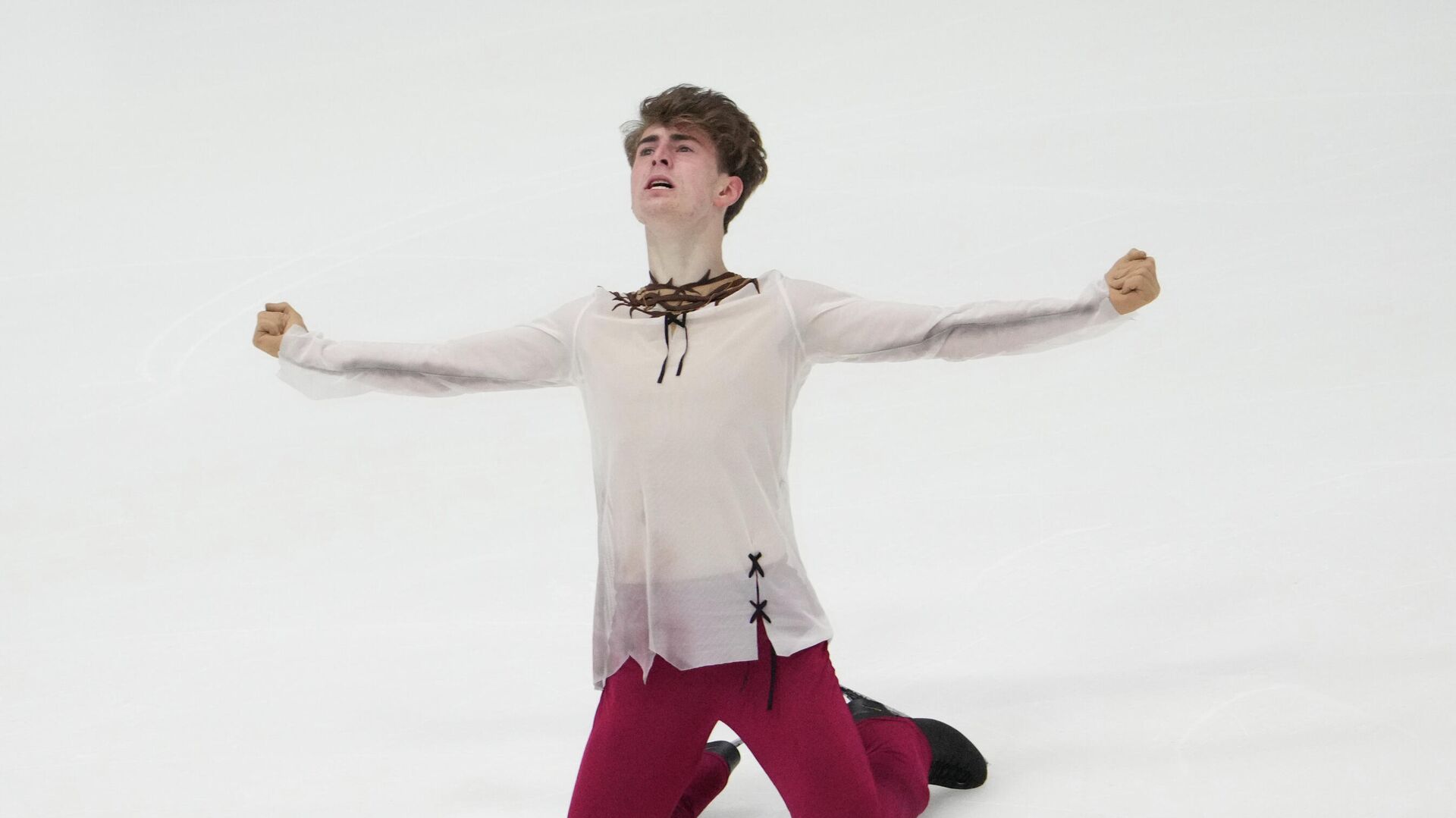 Confession I didn't really pay attention to Japan's Kagiyama but his score seems good so he was probably fine.
As of this moment we've dropped down to 2nd in the team skate behind the Russians thanks in large part to Valiyeva's routine. Men's downhill skiing is delayed because of wind conditions and I think that's a sign to end this post and turn off the tv.