It's not the Olympics without a doping scandal, and it's not international sports without the culprits being the Russians. For an in-depth look at the infrastructure of Russian state sanctioned athlete doping watch the 2017 documentary Icarus. Long movie short: everyone is doping, but most have figured out how not to get caught. Russian athletic doping has been so blatant that Russia was suspended from competing in the Olympics in 2018 and then placed on a four-year ban from competing in the Olympics beginning in 2019. They appealed the ban and it is now set to expire December 2022 (although I'm thinking it will get extended). This is where it gets a bit confusing: in the 2018 Pyeongchang winter Olympics when Russia was suspended, athletes competed as Olympic Athletes from Russia (OAR). Athletes were not allowed to wear their country's colors and if an OAR athlete won, the Olympic flag was raised and anthem played. Russian athletes competing at the summer Tokyo 2021 and winter Beijing 2022 games, where they are banned, are called the Russian Olympic Committee (ROC). They are using a modified Olympic flag with three curved stripes of white, blue, and red over the traditional five rings and if an ROC athlete wins gold, Tchaikovsky's Piano Concerto No. 1 plays. This whole process was supposed to humble the Russian government and serve as a deterrent to them ever running foul of the International Olympic Committee (IOC) again. However, I am still unclear on how being suspended means harsher restrictions than being banned, but that is just one reason why I'm not in charge.
This brings us to 15 year-old ROC skater Kamila Valieva. She is the first woman to ever land a quad at the Olympics and nearly single handedly secured the ROC a team gold. Her performances were truly stunning (short and long) and she is undoubtably the best skater at these games.
Unfortunately, her legacy is now tainted. She tested positive for a heart medication called trimetazidine, which is banned by the IOC and not for sale in the US. It remains unclear if Valieva 1) actually has a heart condition, and 2) knew she was taking heart medication instead of a vitamin or supplement.
Nick Baumgartner and Lindsey Jacobellis just won gold in the mixed team snowboarding cross and it was exciting so I'd like to formally apologize to snowboard racing for thinking it was kinda boring.
Now back to the scandal. Valieva tested positive in December 2021, but her results were not released until February 8th, one day after her skate. Apparently it took so long to get her results because the lab in Sweden was understaffed due to Coronavirus. To which I say–
It is important to note that Valieva has not failed subsequent drug tests, including those administered during the Olympics. Additionally, the fact that Valieva is only 15 further muddies the waters. Athletes younger than 16 are classified as protected persons by WADA (World Anti-Doping Agency) and "cannot be held responsible for illegal substances in her system, nor even publicly named as having failed a doping test" (Naughton, Daily Beast). Which is what happened when the doping news was released. We were never given the name of the athlete, only that they were a protected person on team ROC, and common sense filled in the rest because Valieva is the only athlete that fits that criteria.
It is likely that her coach Eteri Tutberidze will be blamed for providing the medication and given a lifetime ban from the sport. Tutberidze has produced three teen women's skating Olympic champions, Yulia Lipnitskaya (age 15, gold Sochi 2014), Evgenia Medvedeva (age 18, silver Pyeongchang 2018) and Alina Zagitova (age 15, gold Pyeongchang 2018). (Sidebar: I covered the Evgenia v Alina showdown of 2018 if you want to skate down memory lane). All three were considered rising stars but have since retired after extremely short post-Olympic careers, citing a variety of mental and physical health problems, including severe eating disorders. There is now an established pattern that her young skaters burn out by the time they are in their late teens. Compare that to this year's American team that has several skaters, including Nathan Chen (who won men's individual gold!) and Karen Chen who are both 22 and back for their second Olympics, and Jason Brown, age 27 who won bronze in 2014, did not make the team in 2018, and is back for 2022.
There is no denying Tutberidze gets results, and if Valieva is allowed to compete (and she has continued training throughout this saga) she is a shoo-in for gold. Two more ROC skaters are waiting to make their Olympic debut in the women's individual: Alexandra Trusova and Anna Shcherbakova, both 17 and also coached by Tutberidze. All three skaters have quads in their programs and ROC is hoping for a clean sweep of the podium.
So what happens now? The Court of Arbitration for Sport is convening an emergency hearing to decide if the ROC will be awarded their team gold medal as well as on if Valieva can compete in the women's individual events on Tuesday. If not, the US wins the team gold with Japan in second and Canada third.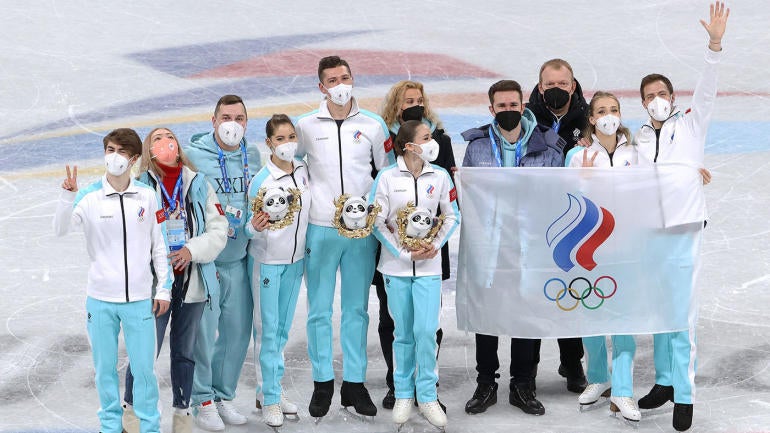 No matter the outcome, it is clear that we will be hearing about doping and Russia long after the Olympic flame goes out on February 20th.