N.B. I wrote this yesterday (Tuesday) during the skating but didn't get around to posting it until this evening so the tenses are a bit all over the place.
Tonight is the women's short program and Thursday is the free skate, (but in my head I always call it the long program). Skater's scores from the short and free are added together to determine medal standing, so in essence tonight is part 1. The short program is technique and choreography heavy and there will be no quads–those elements are saved for the free skate.
Controversial news: The Court of Arbitration for Sport (CAS) has spoken and ROC competitor Kamila Valieva is allowed to skate tonight. They ruled that pulling her out of competition would cause her "irreparable harm". I can't imagine it would be more hurtful than keeping her in the competition and acting as a human lightning rod for anger about Russian doping.
As more information comes out about her test results and hearing things keep getting weirder. On Sunday her lawyers argued that somehow her grandfather's pills got mixed-up with hers which is why it was in her system. According to trial documents, the court was shown a video that her grandfather recorded from his car holding a bottle of what he claims was his heart medication. He said he often chaperoned her to practice so there was probably some mix-up and she somehow ingested trimetazidine (Panja, NYTimes). You know things are bad when the solution to your problem is to suggest that you accidentally gave prescription medication to a minor. A more detailed look at her lab results showed she was also positive for two more (legal) heart medicines. While there is no question that Valieva has talent in spades, the combination of those three drugs likely helped her body use energy and recover more efficiently, giving her an unearned advantage in training.
Just look at Tara and Johnny from Monday when it was announced that Valieva could compete:
They're so shocked they look like normal people. This is more disconcerting than when they look like Hunger Games announcers. I like that NBC thought to put two pairs of skates in the background so we know they're talking about skating. I do actually appreciate that Tara and Johnny were very vocal about their disappointment in the decision to allow Valieva to compete and were not pulling any punches. Johnny is fluent in Russian and is chummy with a lot of the Russian figure skating world, but he did not hold back.
Enough background, let's get to the skating. Here are my thoughts and feelings watching each of these competitors.
First up is Georgia's Gubanova who once again had a beautiful skate. If I was an eight year old I would be jumping around the living room pretending to be her.
American Mariah Bell is up next. She's in a pretty blue velvet costume with sparkles. It's like if Princess Diana's ring became an outfit. She fell but she should console herself knowing that Adam Rippon (bronze Pyeonchang 2018) is her coach and I love him.
Brezinova from the Czech Republic doing her Eurythmics routine and it's still so good. I wish her skates were not a nude color but she looks like she's really enjoying herself. This is such a fun skate. Johnny said she was a little bit lazy in her training when she was a teen (way to build international goodwill Johnny) but he and Tara agree that she just gave her best performance ever.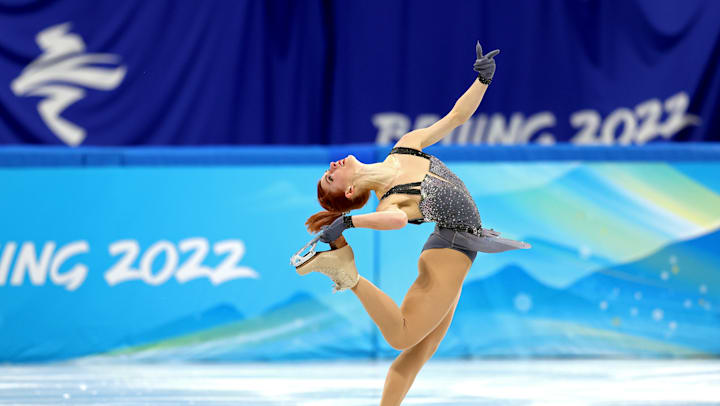 Korean Kim in a gauzy blue dress giving Princess Jasmine vibes. I think it's mainly the color and the sleeve combination.
My ice skating is being interrupted by the men's slopestyle final, which is acrobatic skiing jumps. I'm pretty much ignoring this.
Oh good back to skating. Japan's Higuchi once again pulled off a really beautiful skate AND she landed a triple axel.
American Alysa Liu in bright red firebird dress. Her skate was ok. She's only 16 and adorable. I hope she has a long career.
The skaters are put in groups by ability and the last to perform are the top podium contenders. This group has three Russians, an American, Korean, and Japanese skater ready to duke it out. The second this group stepped onto the ice to warm-up things got serious.
American Karen Chen fell again at the same jump she tried in the team competition last week. My heart just breaks for her, she had a bad skate at the 2018 Olympics and again this year. Her mom makes all her skating dresses and the NYTimes has a great article on the design and creation process.
Ok Kamila Valieva is up let's see what she's got. She stumbles on her first jump but the rest of the routine is beautiful. I'm glad those in attendance are applauding her, I was worried that she would get either a hostile response or none at all. Her score is a full 9 points above 2nd place even though she didn't land her jump perfectly.
Korean skater You in a sparkling purple and grey number. This was not a memorable skate for me.
Russian Trusova has deep red hair and a red outfit. She falls on the triple axle and just barely hangs on to several other jumps. Her performance is if Carmen was Russian. Tara does not like that she scored as high as she did.
We stay with the Russians and watch Shcherbakova looking very black swan with feathers on her hands. She has amazing extension and is to quote Johnny, a prima ballerina on ice.
Japan's Sakamoto is the last to skate in a gold and brown Grecian dress. She ends the night with a bang, giving an emotive and beautiful skate.
The rankings at the end of the short program are: Valieva in 1st, Shcherbakova 2nd, and Sakamoto 3rd. It was assumed all the Russians would win medals, and that's still possible with Trusova in 4th. The three Russians are also planning on performing quads on Thursday and even if they don't land them they'll still get high scores for the attempt. The Americans are in 8th, 11th, and 13th and will need to have quite the performances to make it to the podium at all.
Speaking of, if Valieva places in the top three, there will be no medal ceremony. "It may take weeks or months to determine whether Valieva should receive a medal or have her entire Olympics expunged from the record books" (Streeter, NYTimes). To paraphrase Adam Rippon, the athletes may get medals in a few months, but they will forever have been denied that moment on the podium. Their families, friends, and coaches won't see them receive their accomplishments on the world stage. And even if Valieva does win because she is legitimately the best skater her success will always have a metaphorical asterisk next to it.
Bring on the free skate.